ARTURIA MINIBRUTE Analogue Synthesiser
The Arturia Minibrute Analogue Synthesizer is a 25 note monophonic synth with after touch
Key Features:
25 Key Analogue Synthesiser
25 note Monophonic synthesizer with aftertouch
Oscillator mixer [Sub, Sawtooth, Square, Triangle, White Noise, Audio In]
Rugged aluminium enclosure
With USB, MIDI & CV connectivity
Product Code: 100072656
Pricematch:
Contact us via online chat module to request pricematch
MiniBrute is a revolutionary new analog synthesizer from Arturia. Featuring a pure analog signal path and a host of unique features, it sets a new standard for what a hardware synthesizer should be.
Its 100% analog audio signal path features a VCO wave mixer, the classic Steiner-Parker multimode filter, and numerous analog innovations such as the Metalizer, Ultrasaw, and the Brute Factor™. Boasting complete MIDI, CV and USB connectivity, MiniBrute is right at home with your computer or your vintage synths, making it the ideal companion to deliver a pure analog blast anywhere you go.
Bring the Noise
Designed for the analog purist, MiniBrute packs an extraordinary potential for warm and powerful sounds into a very portable design. Loaded with the legendary Steiner-Parker multimode filter, a multi-wave Oscillator and Sub Oscillator, MiniBrute excels at delivering fat bass lines, screaming leads and fascinating sonic experiments.
You can process any external sound through its audio input, making this a powerhouse for adding warmth, grit and filter effects to drums, guitars, and more.
Bring the Fun
In a world dominated by hardware with too few controls and endless navigation in tiny LCD screens, MiniBrute brings back the fun with a true hands-on approach to synthesis.
You want it louder? Grab the volume knob and crank it up. You want it brighter? Grab the filter cutoff knob and crank it up. You want your sound to grow fangs and snarl like a beast? Grab the Brute Factor™ knob and CRANK. IT. UP. It's that easy! No factory presets, no buried menus to deal with. MiniBrute is just honest and true analog synthesis.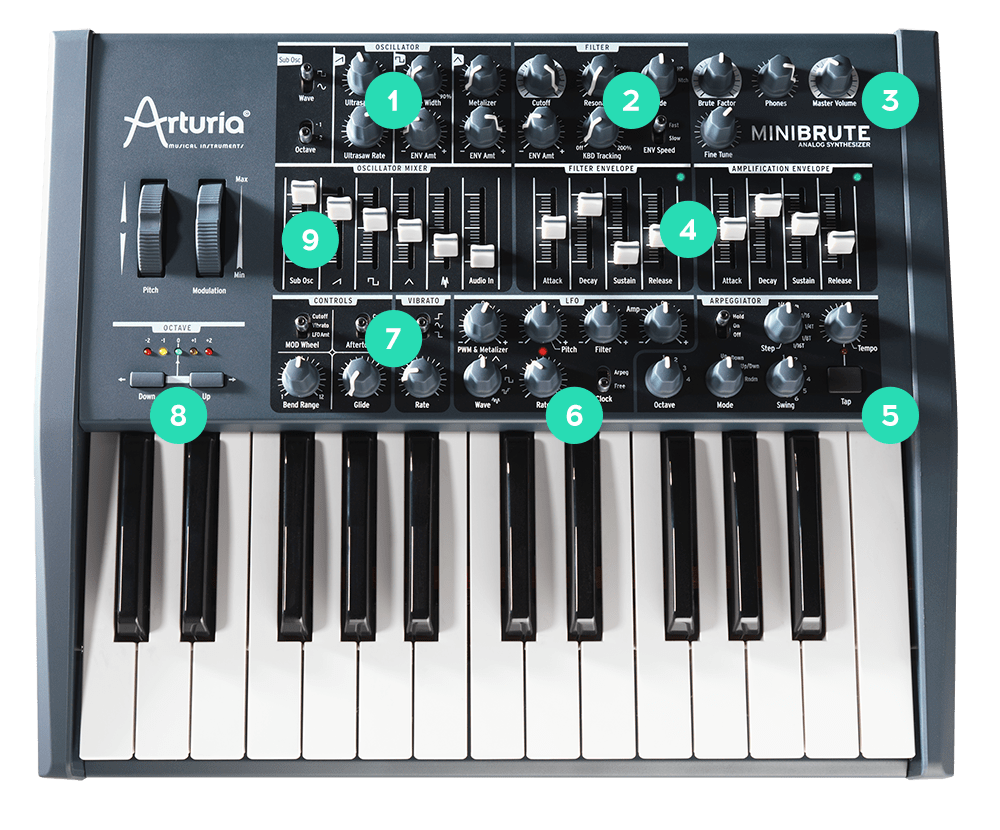 1. Oscillator/Sub:
Sawtooth, Pulse, Triangle waves with unique modifiers. Ultra Saw makes for huge sounds, Metalizer adds complex harmonics to the triangle wave. Sub Osc will rattle the house.
2. Steiner-Parker Multimode Filter:
Beefy filter with Low Pass, High Pass, Band Pass, and Notch modes. Resonance can be pushed into self oscillation.
3. Brute Factor™:
The Brute Factor™ can add subtle drive effects to full blown intermodulation havoc.
4. Two 4 Stage Envelopes:
ADSR Type Envelope generators with a fast/slow mode allow for the sharpest attacks or for extra long release times.
5. Arpeggiator:
Flexible arpeggiator allows for instant melodic phrases. Syncs to MIDI clock over USB and MIDI In to play in sync with your favorite DAW.
6.Two LFOs:
The main modulation LFO supplies 6 waveforms and can run in sync to the Arpeggiator. Bipolar modulation destinations allow for an amazing variety of sonic possibilites. The Vibrato LFO allows for trills and standard vibrato.
7. Performance Controls:
Mod Wheel & Aftertouch destinations, Glide and Pitch Bend amounts can all be set.
8. Keyboard with Aftertouch:
25-note keyboard with velocity and aftertouch. Octave buttons allow a range of 6 octaves."
9. Oscillator Mixer:
Allows for mixing the levels of the suboscillator, the individual waveforms of the main oscillator, the noise generator and the external inputs.
Size & weight

Instrument size : 325 x 390 x70 mm (12.79 x 15.35 x 2.76 inch)
Instrument weight : 4 kg (8.8 lbs)


MiniBrute Specifications :


Monophonic synthesizer

100% Analog Audio Signal Path

Steiner-Parker 2 pole Multimode Filter (Low Pass, Band Pass, High Pass and Notch)

Voltage Controlled Oscillator with Sub-Osc (Square, Sine, -1 & -2 oct)

Oscillator Mixer (Sub, Sawtooth, Square, Triangle, White Noise, Audio In)

Signal Enhancers :


Pulse Width Modulation

Ultrasaw generating shimmering sawtooth waveforms

Metalizer bringing extreme triangle harmonics

Brute Factor delivering saturation and rich harmonics

LFO1 with 6 waveforms (Sine, Triangle, Sawtooth, Square, Random Square, Random Sine) and bi-polar modulation destinations (to PWM & Metalize, Pitch, Filter, Amplifier)

LFO1 clock syncable to Arpeggiator (Arpeg, or free).

LFO2 with selectable rate and 3 vibrato modes (trill up, trill down, sine)

Two ADSR Envelope Generators with selectable slow/fast speed (from 1 millisecond to more than 10 seconds)

Keyboard Tracking on the VCF Cutoff

25 note semi-weighted keyboard with aftertouch (assignable to Cutoff or Vibrato amount)

Mod Wheel (assignable to Cutoff, Vibrato, or LFO amount)

Pitch Wheel (with selectable bend range)

Octave selector from -2 to +2 octaves

External Analog Audio Input

CV In/Out controls: Pitch, Filter, Amp

MIDI In/Out with 5 pin DIN connectors

USB MIDI In/Out

CV Gate source selector (Audio/Hold/Keyboard)

1/4´´ Audio Output and 1/4´´ Headphone Output

Full Function Arpeggiator:

4 modes of arpeggiation

4 octave range control

6 step divisions

6 Swing positions

Hold function

Tempo knob

Tap tempo

MIDI Sync

Rugged Aluminium enclosure

12V DC 1A power
MAIN FEATURES:

Monophonic synthesizer

100% Analog Audio Signal Path

Steiner-Parker Multimode Filter (LP, BP, HP and Notch)

Voltage Controlled Oscillator with Sub-Osc

Oscillator Mixer (Sub, Sawtooth, Square, Triangle, White Noise, Audio In)

LFO1 with 6 waveforms and bi-polar modulation destinations

LFO2 with 3 vibrato modes

Brute Factor delivering saturation and rich harmonics

Ultrasaw generating shimmering sawtooth waveforms

Metalizer bringing extreme triangle harmonics

Two ADSR Envelope Generators

25 note Keyboard with Aftertouch

Rugged Aluminium Enclosure

External Analog Audio Input

CV In/Out controls: Pitch, Gate, Filter, Amp

MIDI In/Out with 5-Pin DIN connectors

USB MIDI In/Out

1/4´´ Audio Output and 1/4´´ Headphone Output

Gate Source Selection: Audio Input, Hold, Keyboard
Arpeggiator:

4 Modes of Arpeggiation

4 Octave Range Control

6 Time Divisions

Swing Control