Arturia MatrixBrute Analog Monophonic Synthesizer
The Arturia MatrixBrute is an outstanding analog synthesizer. Offering three Brute oscillators, a Steiner-Parker filter and a ladder filter, five analog effects, and the incredible modulation matrix
Key Features:
Analog Matrix Synthesizer
256 Preset memory locations
Analogue effects
Stereo audio output
MIDI and USB I/O
Product Code: 600001267
The Arturia MatrixBrute is an outstanding analog synthesizer. Offering three Brute oscillators, a Steiner-Parker filter and a ladder filter, five analog effects, and the incredible modulation matrix.
Power beyond the matrix
The heart of the MatrixBrute is its unique modulation matrix that allows you to create your own routings. You can invent a sound palette of your own that will be sure to be heard in any mix !
The matrix can also be used to recall your presets. So go on stage, and select any of the 256 presets instantly! No menus or awkward selection screensscreens, everything is at your fingertips.
As if it was not enough, the matrix is also made to program and play sequences. This is no ordinary step-sequencer. With its ability to also be used as a modulation source, sounds evolve in melody and texture, just the way you want.
Sound beyond the power
Offering a audiosignal path that is is 100% analogue, MatrixBrute also features true analogue effects. The MatrixBrute gives you the sonic quality and power of a vast modular synthesizer but with the flexibility of presets along with a great arpeggiator and an advanced sequencer.
MatrixBrute is a truly empowering instrument!! It offers tons of connections so you can work in any set-up. It brings a quality keybed and a solid chassis.
No endless menus or screens to navigate or multi-function buttons to remember. Forget about connectivity issues. This is you in control. This is you inventing sounds. This is analog avant- garde.
Hands-On Heaven
Forget about tiny LCD screens, being lost in menus and sub-menus, and trying to remember double functions and complex procedures. MatrixBrute brings back the fun and the immediate hands-on experience of synthesis.
When you want things to shake, grab the Sub Osc slider and bring it on. When you want it to sizzle, grab the filter knob and open it up. And when it's time to unleash the beast, grab the Brute Factor™ knob and turn it loose! It's that easy.
So what does MatrixBrute sound like?
The Matrixbrute is obviously an amazing looking synth but as they say, looks are not everything.
The heart of the MatrixBrute is sound; analog sound; huge, pure, awesome, delicate, wild, melodious, nasty, ostentatious, dramatic, amusing, ferocious, and even sophisticated sound.
Tone Generation
The foundation for any great synthesizer requires great oscillators.
We have them in spades! The MatrixBrute has two 'Brute style' oscillators, each with its own sub oscillator and the wave shapers that made the Minibrute the new standard in analog synths. With the analog UltraSaw you can make this single oscillator sound like three detuned sawtooth oscillators. The Metalizer on the triangle wave can take your sound from mello to extreme. The sub-oscillator with its waveform control adds low end beefy goodness.
We also give you a third oscillator that has sine, triangle, saw and square waveforms. This unique oscillator can be used as an audio source and as a modulation source at the same time.

We have added the most advanced Noise generator on a production synth ever. With white, pink, red and blue noise colors, you can create all kinds of new sounds. The noise generator can also be a modulator to add some dirt to the oscillators or filters.
Complex Audio Mods
The AUDIO MOD section allows you to create complex audio modulations.
You can route oscillators to other oscialltors to create dense cross modulation sounds as well as routing oscillators and the noise generator to filters to add some more grit and grime into your sound.

Filters
The soul of a synthesizer is the filters. We decided to give the MatrixBrute two souls.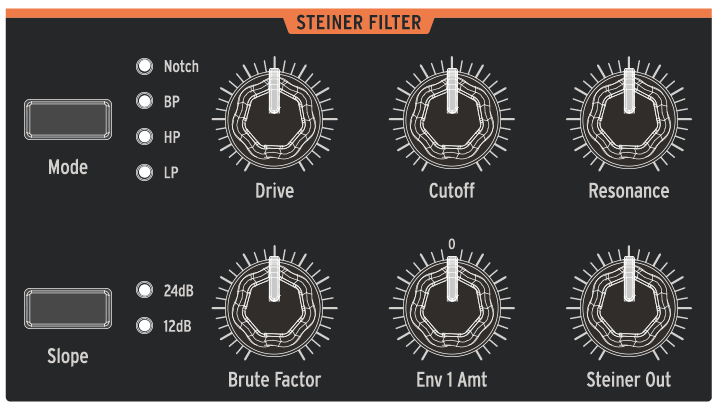 STEINER-PARKER
The Steiner-Parker multimode filter that we are known for in our MiniBrute and MicroBrute, has been brought back but this time we added our own flair to it. We added a DRIVE control to thicken up the filter sound. On top of this we changed it so that the slope can be 12db per octave, like the original, or 24db per octave for fatter sounds.
DR. BOB'S LADDER
The most famous filter used in synths is probably Dr. Robert Moog's transistor ladder filter. We have brought you our version of this classic sounding filter with a new DRIVE control, 12 and 24db per octave slopes and LOW PASS, HIGH PASS and BAND PASS modes.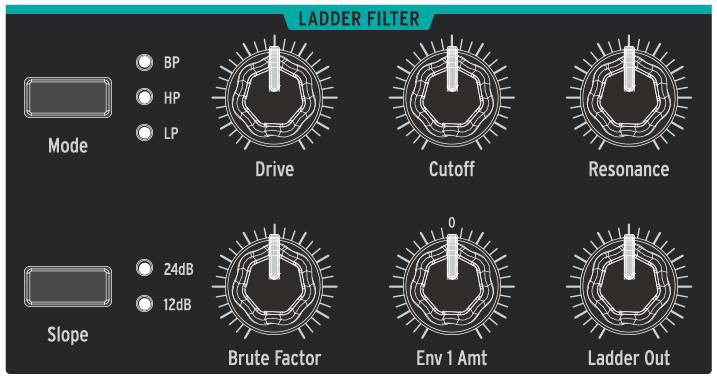 ROUTING
These two great filters can be set up to be in series or parallel modes multiplying the possibilities. A single offset knob allows you one control access to both filters for unheard of before sweeps.

Enter the Matrix
Undeniably the matrix is probably the first thing that caught your eye. It is big and brash and bold. Part routing system, part sequencer and part preset recall grid, the matrix is undoubtedly the most exciting thing to hit the synth world in a while.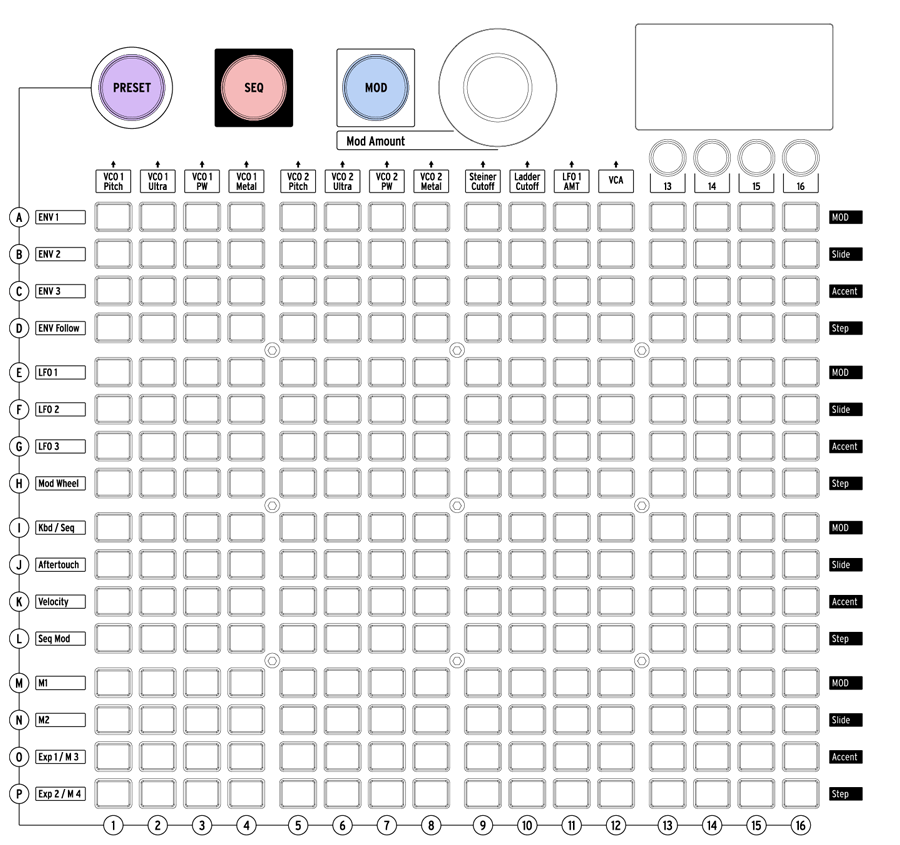 Modulation routing
In our goal to create a programmable virtual modular we discovered some technology that allowed for the matrix modulation that is the centerpiece of the MatrixBrute. You can route any of 16 modulation sources to any of the 16 modulation destinations. Further, there are 4 destinations that are user assignable allowing you to customize each patch.
Using the data dial, you can set the amount of modulation for each cross point on the matrix. This is a much more flexible system than a simple patch cord and allows you to dial in just the right amount of modulation.
Sequencer
In sequencer mode the matrix becomes a 64 step sequencer capable of making awe inspiring melodic patterns. The sequencer supports Accent and Slide steps and has a separate function that gives you a different CV on each step that can be used as a modulation source. The possibilities with this as both a melodic and modulation source will inspire you for years to come.
Preset recall
When in a live situation, you need to be able to load presets quickly and easily. The Matrix can be used to instantly choose any of the 256 on-board preset memory locations. Simply press a button and you are there. No scrolling through lists or dealing with tiny displays. Pure performance pleasure.
Modulators
Modulation sources give life to your sound.
They animate it and give it dimension.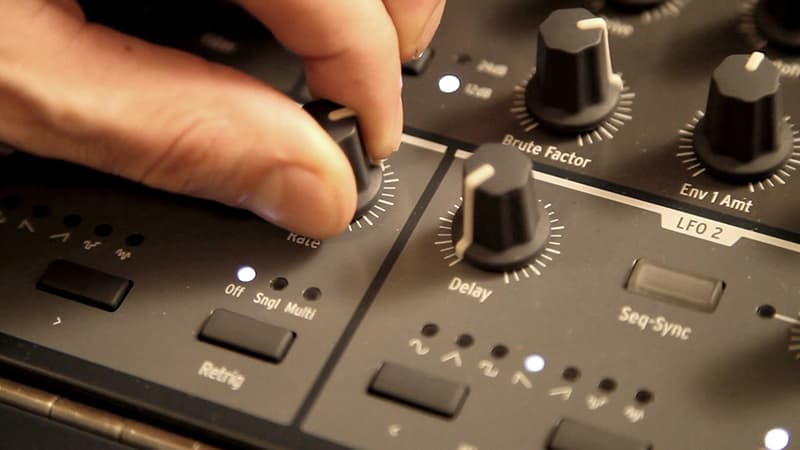 We have included 3 LFO modulation sources. LFO's 1 and 2 give you a vast array of waveforms to choose from. These LFO's can also sync to the sequencer or MIDI clock so that you can twist and bend your sound in time to the music.
The 3rd LFO is part of VCO 3 and has the ability to track the keyboard for sounds that change as you play up and down.
3 Envelopes are also included to give you time based control over filter, VCA's or any other parameter you want to route them to via the matrix. Our hyper-fast punchy envelopes will allow you to create hard hitting bass and lead sounds. Draw them out and they become soundscape creating time machines.
Connectivity
Lastly a good synthesizer is part of an ecosystem.
One that allows you to work with other devices, and to interconnect modules using industry standard protocols. The MatrixBrute excels in this area. With 12 CV inputs and outputs that allow you to tie into the matrix, you can use Eurorack standard modules to add even more flexibility to MatrixBrute.

Imagine being able to plug in a boutique company modulation source and controlling the powerful MatrixBrtue synth engine. Imagine using sources or macros in MatrixBrute to then control multiple destinations in your custom modular synth. Imagine bringing external audio into the mixer so adding even more tone generating capability is just a plug away.
Syncronize your vintage drum machines or external sequencers with the DIN/clock sync in and outs. Connect to a computer using USB or to MIDI equipped sound modules. External pedal controllers like footswitches or expression pedals can also be used to give you more performance options. Matrixbrute is the pinnacle of analog sound and connectivity.
Performance controls
A synthesizer is meant to be an interactive musical instrument.
At the center is the keyboard and our 49 note velocity keybed with aftertouch gives you a great platform for playing. But playing the synthesizer is more than just pressing keys. We have the standard pitch bend and mod wheels that you will find on most synths but we have added 4 macro knobs that can be assigned, and routed via the Matrix, to any of the modulation destinations. This allows for single knob control of up to 16 parameters. Using the macros will take your performances to new levels. On top of this we have an amazing sequencer and arpeggiator for making musical patterns or tempo sync'ed modulations.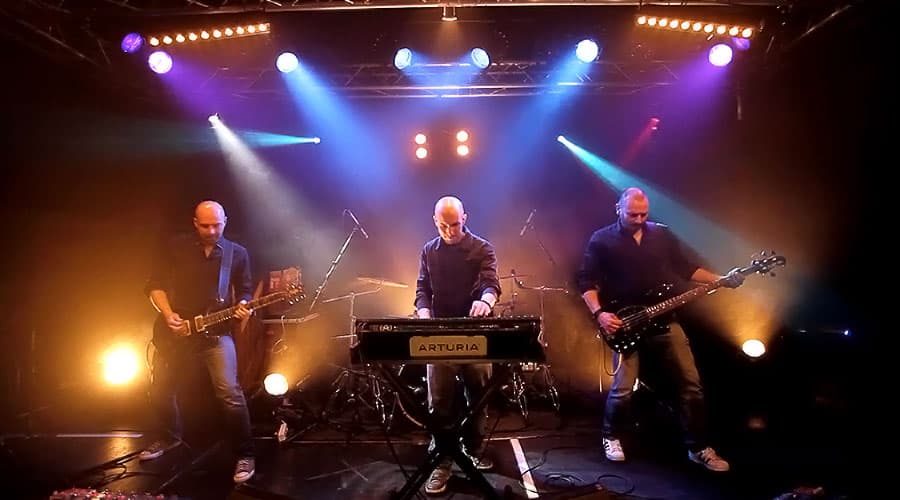 Analog Output effects
Synthesizers and effects can be a touchy subject.
Too often companies put poor quality, poor sounding digital effects at the end of their analog audio chain which leads to bad overall sound. We have built in 5 high quality true analog effects that will be sure to impress. From stereo delay and mono delay to chorus and flanging as well as a unique multi-tap reverberator, our new analog effects are the perfect finish to this impressive sound chain.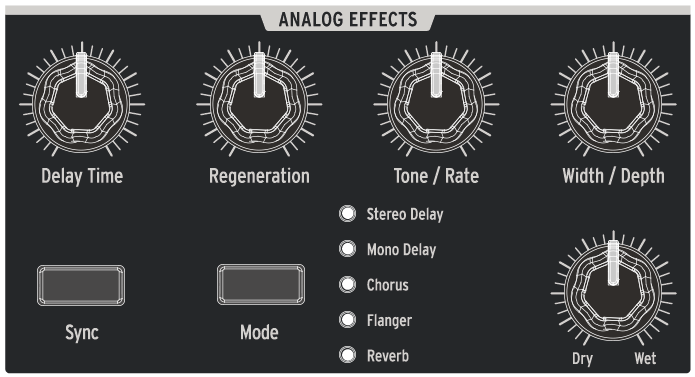 Analog Matrix Synthesizer
256 Preset memory locations
2 Analog Exponential VCO's:
Saw + UltraSaw, Square +Pulse width, Triangle + Metalizer, Sub
1 Analog Linear VCO/LFO
Saw, Square, Triangle, Sine waveforms; LFO time divisions; Key track
VCO 2>1 Hard Sync
Audio Mod:
VCO1>2 ; VCO1 < VCO3> VCO2 ; VCF 1 < VCO3> VCF 2 ; VCF1 < Noise> VCF2
Noise Generator:
White ; Pink ; Red ; Blue noise types
5 input Audio Mixer with Filter routing
Steiner Parker filter with 12+24 db per octave modes ; Drive ; Brute factor; Low Pass, High Pass, Band Pass, Notch
Ladder filter with 12+24 db per octave modes ; Drive ; Brute factor; Low Pass, High Pass, Band Pass
2 LFO's
Sine, Tri, Square, Ramp, Saw, Random, S&H
3 Envelope Generators
2 Attack, Decay, Sustain, Release
1 Delay, Attack, Decay, Sustain, Release
External Audio In
16x16 Matrix modulation panel
64 step sequencer
STEP enable, Slide, Accent, Modulation
Save and recall sequence patterns on the fly
Analog Effects
Stereo delay, Delay, Flanger, Chorus, Analog Reverberator
Arpeggiator
12 CV / Gate Inputs/Outputs
Audio Input, Line or Instrument level
Stereo audio output
MIDI and USB I/O
Pedal inputs for Expression and Sustain
Seen the Arturia MatrixBrute Analog Monophonic Synthesizer Cheaper?
Price Match
We're always competitively priced! However, on the odd occasion a competitor may offer a lower price on a product, all we ask is that the store or website offering the lower price is an authorised dealer for that brand and is based in the UK with the products being 'like for like' and available from stock. We will also take into account any delivery charges.
* Required Fields